Ingredients:
4 teaspoons olive oil
1 chopped yellow onion
3 cloves garlic, minced
1 box (48 ounce) lowsodium chicken broth
6 red potatoes, diced
½ cup chopped carrot
4 cups shredded kale
½ pound cooked chicken breast, shredded
¼ teaspoon black pepper
Directions:
In a large saucepan, heat the olive oil over medium heat for 1 minute. Add chopped onion and garlic and cook uncovered for 5 minutes.
Add chicken broth, potatoes and carrot; cover and bring to a boil.
Reduce heat and simmer for 20 minutes.
Mix in the kale, chicken and black pepper. Cover and simmer for 15 minutes or until kale is tender.
Nutritional Analysis:
270 calories
5 g fat
1 g saturated fat
25 mg cholesterol
210 mg sodium
43 g carbohydrate
5 g fiber
15 g protein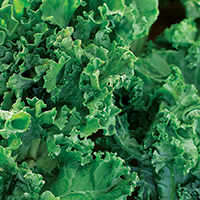 Kentucky Proud Project
County Extension Agents for Family and Consumer Sciences 
University of Kentucky, Dietetics and Human Nutrition Students
Buying Kentucky Proud is easy. Look for the label at your grocery store, farmers' market, or roadside stand.