Military Teen Adventure Camps (MTAC)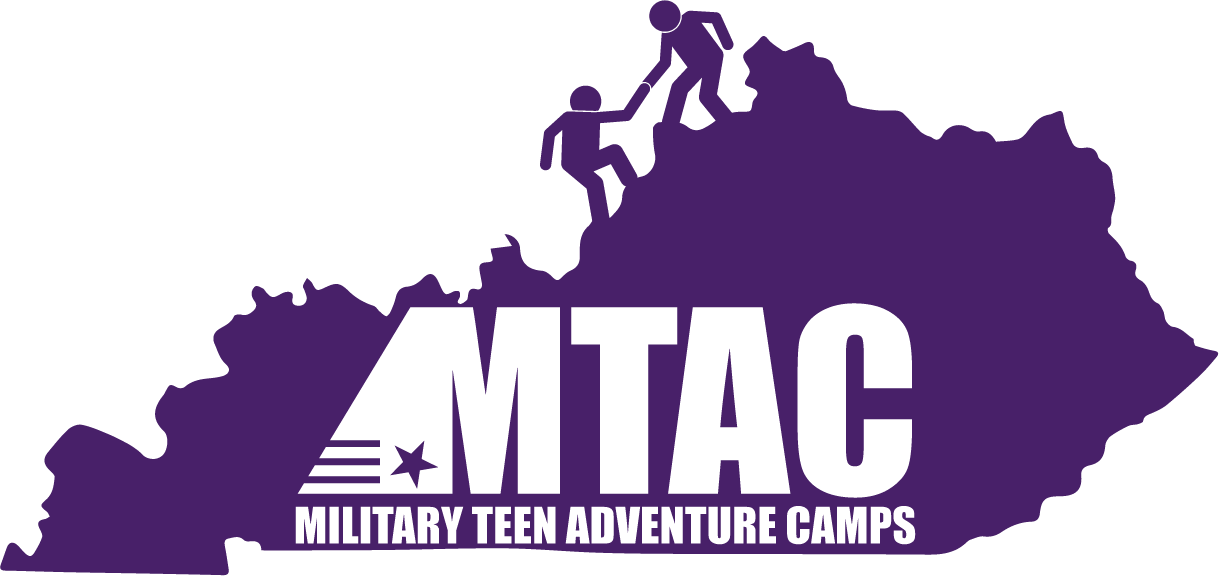 Welcome to our KY MTAC page!  We are super excited to announce that we are able to offer summer camps for military families in 2021!  Military parents (service member or spouse) and their teenage children (ages 13-18) are invited to attend exciting adventure camps together. Everything, including equipment, lodging, food and transportation allowances, is included! These camps are not only fun, they offer an incredible opportunity for military parents and their teens to reconnect and make memories that will last a lifetime!
*There is a $30 registration fee for each participant that will only need to be paid if admitted to a camp (includes a t-shirt, or water bottle, etc.). Aside from this, the camp is completely free to all military family members.
2021 Summer Camp Registration will open at 12pm (est) on Friday May 14th! Please see below:
Please be advised before you register: Each participant (parent and attending children) will be required to complete 16 days of pre-screening of symptoms prior to camp and have a negative COVID-19 test result within 5 days of the start of the camp. These items must be turned in to us before you can be admitted into the camp on the start date. If you are unable to complete these requirements we ask that you do not register for a camp in 2021.
Military Adventure Camps are open to Active Duty, Guard, Reserve and Veteran families only (if you do not meet this criteria please do not apply)!
You will need to register each participant in your family.  This includes 1 adult (only) and any teens that meet the age requirement.
The initial registration is to apply for the camps. Once you are admitted, additional registration information will be required for the specific camp.
You will be notified by email and or by the KY MTAC team if admitted to camp. At that time you will be instructed to finish the registration process.
Due to Covid-19 restrictions, we are only accepting families this year who can arrive by driving. Overnight stays in a hotel will not be reimbursed. In other words, families should be able to drive to camp without having to stay overnight. No planes or other forms of travel will be accepted.
Please allow up to 5-7 business days before contacting the MTAC team about the status of your registration.  We have limited time to process applications, but please trust we will do our best to get back with you.
If you have questions or need any help (besides the status of your family's application) please feel free to contact us!
2021 MTAC CAMPS:
Red River Gorge Rock Climbing, Rappelling, and Canopy Excursion – Campton, KY.
Dates: June 11-14; June 26-29, 2021
Ocoee Whitewater Rafting, Climbing, Rappelling and Outdoor Adventure – Ocoee, TN;
Dates: July 16-19, 2021
Feel free to like and visit our Facebook pages:
https://www.facebook.com/KyFCSEMilitary/
https://www.facebook.com/Kentucky-Military-Teen-Adventure-Camps-218917788128919
Information about Military Teen Adventure Camps being held in other states can be found at: https://ag.purdue.edu/extension/adventurecamps/Pages/default.aspx
Thanks for your patience and we can't wait to see you at camp!
KY MTAC Team
Military Teen Adventure Camps are the result of a partnership funded by the Department of Defense between the Office of Military Community and Family Policy and the USDA's National Institute of Food and Agriculture through a grant/cooperative agreement with Purdue University.