Season:
All year — the peak season is October through March.
Nutrition Facts:
Sweet potatoes are a good source of fiber, complex carbohydrates and vitamins A and C.
Selection:
Two varieties of sweet potatoes are grown in Kentucky. The pale sweet potato has a light yellow skin and pale yellow flesh that is dry and crumbly. The darker variety has a dark skin and orange sweet flesh that cooks up moist. Choose small to medium-sized sweet potatoes with smooth, unbruised skin.
Storage:
Store unwrapped in a cool (50 degrees F), dry, dark place with good ventilation for up to 2 months or at room temperature for 2 weeks.
Preparation:
Scrub well. Leave whole or peel,then slice, dice or shred.
To Bake: Pierce skin in several places and rub with margarine, if desired. Arrange on a baking sheet in a single layer and bake uncovered in a 375 degree F oven until soft when squeezed (45-60 minutes.)
To Boil: In a 3-quart pan, boil four whole mediumsized potatoes, covered in 2 inches water, until tender when pierced with a fork or knife. Drain.
To Microwave: Pierce skin, place on a paper towel in microwave. If cooking more than two at a time, arrange like spokes of a wheel. Microwave on high, turning halfway through cooking time. Allow 4-5 minutes for one potato.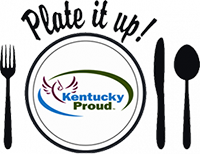 Buying Kentucky Proud is easy. Look for the label at your grocery store, farmers' market, or roadside stand.