Nutrition Facts:
Strawberries are low in calories and high in nutrients. One cup strawberries contain 55 calories. Strawberries are a great source of vitamin C. They also contain vitamin A, iron, fiber, and folic acid. Folic Acid is especially important for childbearing women. When consumed in adequate amounts, it has been proven to prevent certain birth defects.
Selection:
Choose fully ripened, bright red berries. Strawberries do not ripen after they have been picked. Berries should be plump and have a natural shine with bright green, fresh looking caps. Use strawberries as soon after picking as possible for the best flavor and highest nutritional value.
Storage:
Store strawberries in the refrigerator, covered, unwashed, with the caps on. Do not crowd. If you have the space, gently spread the berries on a cookie sheet and cover with plastic wrap. Use berries within 2 to 3 days.
Handling:
Handle strawberries gently. Never remove the caps before washing. The cap prevents water from soaking into the berry, which lessens the flavor and changes the texture. To wash, cover berries in cold water and lift gently out of the water to drain. Dry by placing berries in a single layer on paper towels. After washing, remove the caps if necessary. Give the cap a gentle twist or use the point of a sharp paring knife or pointed spoon. Pat berries dry with paper towels before serving whole or sliced, fresh or cooked.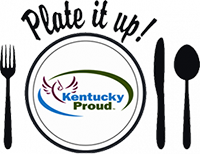 Buying Kentucky Proud is easy. Look for the label at your grocery store, farmers' market, or roadside stand.