Ingredients:
2 medium acorn squash (1 - 1 1/2 pounds)
Nonstick cooking spray
2 cups fresh spinach, chopped
4 strips turkey bacon, cooked and crumbled
1/2 cup grated parmesan cheese
1 thinly sliced green onion
1 tablespoon olive oil
2 teaspoons garlic powder
1/2 teaspoon salt
1/4 teaspoon black pepper
1/4 teaspoon nutmeg
Directions:
Wash hands with warm water and soap, scrubbing for at least 20 seconds. Preheat oven to 350 degrees F. Cut squash in half; discard seeds. Place squash flesh side down on a baking sheet coated with nonstick cooking spray. Bake for 50 to 55 minutes or until tender. Carefully scoop out squash, leaving a 1/4-inch-thick shell. In a large bowl, combine the squash pulp with the remaining ingredients. Spoon into shells. Bake at 350 degrees F for 25 to 30 minutes or until heated through and top is golden brown. Store leftovers in the refrigerator within two hours.
Nutritional Analysis:
210 calories
9g total fat
3g saturated fat
25mg cholesterol
710mg sodium
27g total carbohydrate
4g fiber
1g total sugars
0g added sugars
9g protein
0% DV vitamin D
15% DV calcium
15% DV iron
20% DV potassium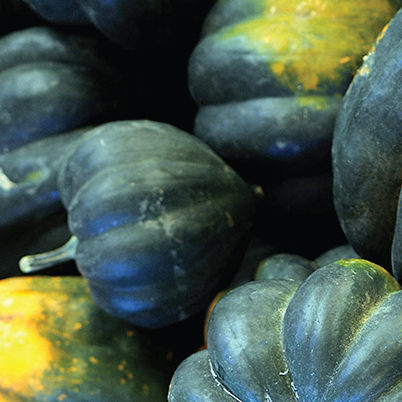 Kentucky Proud Project
County Extension Agents for Family and Consumer Sciences 
University of Kentucky, Dietetics and Human Nutrition Students
Buying Kentucky Proud is easy. Look for the label at your grocery store, farmers' market, or roadside stand.